International Day of Women in Engineering
Facing up to stereotypes and prejudice requires a certain amount of courage. This applies to many aspects of life. A very clear example of the presence of certain stereotypes is the low representation of women in STEM careers. Especially in engineering.
According to a global survey conducted in 2020 by the specialized website GenderInSITE (Gender in Science, Innovation, Technology and Engineering), the Inter-Academic Association (IAP) and the International Science Council (ISC), engineering is the second STEM profession that it has less female participation (10%). In Spain, the percentage is higher, but even so, women only represent 25% of enrollments in engineering degrees.
Our colleague Carmen Llamas is part of that minority percentage that decided to bet on an engineering career. Carmen graduated in Telecommunications Engineering from the University of Seville, and she did it with the best grades of all the engineering degrees taught at the Higher Technical School of Engineering (ETSI) of Seville.
Why did you decide to study a career and specifically Telecommunications Engineering? Has anyone guided and encouraged you to study this career?
I decided from a very young age to study a career because I observed that it was what offered better professional opportunities. Also, my parents encouraged me to do it; my father studied Medicine and my mother Chemistry.
I had always liked mathematics, physics, chemistry… Everything that made you think a little was what entertained me the most. I thought about being a math teacher, but my teachers told me not to go down that path, not to just teach classes, and instead choose an engineering degree.
So, I began to assess among the engineering which I could like more. I was between electronics or telecoms, and telecoms was the one with more professional opportunities. In addition, there were people who advised me on which career to choose. For example, friends of my older sister, who were engineers, told me that this was a profession in which there was no unemployment, a good salary, etc. At that time, I didn't know exactly what I was going to do, I didn't know what a smart meter was, and today I work with them every day!
What was clear to me was that I wanted to know how far I could go. To see what I could do. And along the way I was inspired and helped by very good teachers who taught me not only knowledge, but also how to think.
How is your day-to-day at WoodSwallow? What do you like the most about your job?
At WoodSwallow I work as a firmware design engineer. Specifically, I work with smart electricity meters and gas meters, which are real time embedded systems. My day to day is based on solving problems. First, a problem with the firmware of a meter is detected. My job is to analyze the problem, look for a possible explanation for what has happened and locate the source of the error, either within the code or in the communication messages (in my case with ZigBee). Once located, I implement a solution and a series of tests are carried out to confirm that the problem has indeed been solved. If not, we continue looking for solutions.
What I like most about my job is that every day is a new challenge, a new problem. And that keeps you active, you're not always stuck on the same problem. In addition, you have a complete vision of the product development. The truth is that I never bored. For me it is a challenge to try to do it better every day, to improve the code a little more every day.
Plus, I feel very lucky for the teammates I have. We have a lot of chemistry within the team. We all contribute, we all feel heard, and everyone listens. Here all opinions count. And that allows you to learn every day from your colleagues. This is great and makes you not want to leave.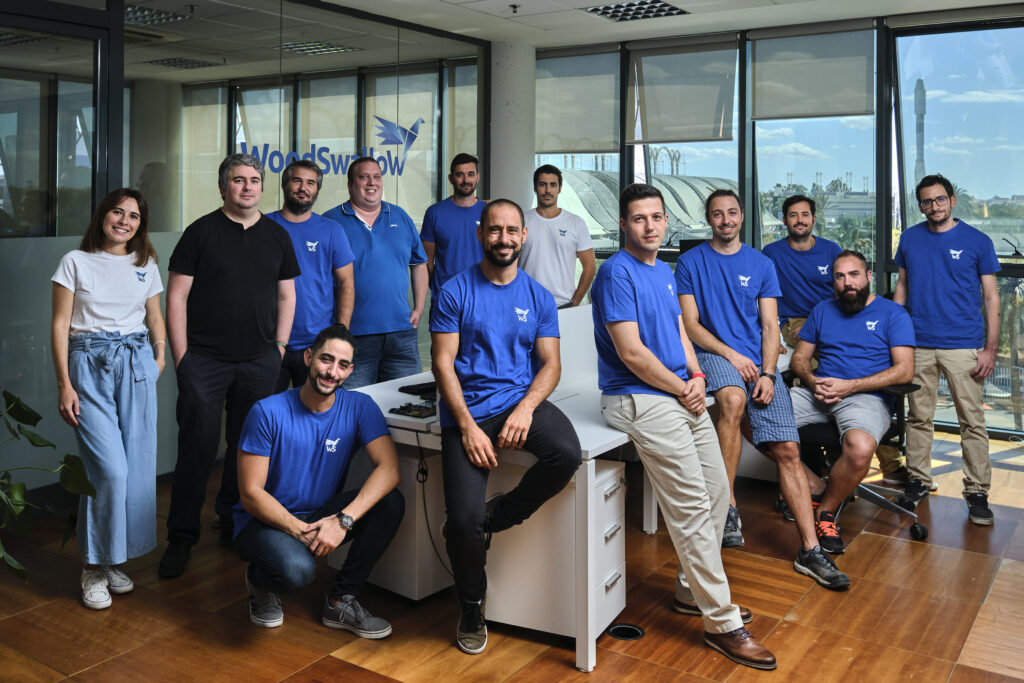 How was your experience at the engineering university? How many female classmates graduated with you?
Going through university was hard. I wanted to get good grades and that meant having to spend extra time studying. There was a lot of exigencies, many exams, and very diverse subjects. In addition, there was the challenge of having to leave Algeciras, where I am from, and move to Seville and start from zero here. But in general, my experience was very positive because I took with me knowledge and many friends.
I combined my last year of the degree with work at AICIA (Association of Research and Industrial Cooperation of Andalusia) and that opened the doors to the professional world to me. It also helped me identify and acquire certain knowledge that I had not previously learned but that I saw was necessary in the professional world. In May 2018 my relationship with WoodSwallow began. Until today.
Of course, in the first year of the degree we were around 200 people. Only around 15 of them were women. The proportion was very small. We got together right away, of course. But the truth is that I have never felt on disadvantage, although that goes with each person. They have never made me feel bad. Of course, there are always the typical jokes (that are becoming less common), but nothing special.
What do you think we can do to encourage more women to choose this type of career?
I believe that the most important thing is that no one tells you that you cannot do something. Or that they tell you what type of sector you have to go to. "If you are a woman, nursing. If you are a man, engineering". Luckily this is disappearing. It is important that from a young age you are not conditioned through toys, for example, but rather that they show you all the options and opportunities, including technical careers, of course.
I think that more campaigns should be launched to make this issue more visible. Also, that teachers motivate you if they detect in you engineering skills and encourage you to considerate a career in this area. It's basic to have all the information so you, at least, contemplate the option. That, and not being afraid to enter a class with 90 boys and 3 girls. Nothing happens. We all have the same opportunities, and we are all have access to them.
In addition, science careers are very beautiful and rewarding because they help make a better world. For example, the Smart Meters with which we work at WoodSwallow, help people to know and control their electricity or gas consumption. And that positively affects their economy, and in general their quality of life. All technology helps improve people's lives to a greater or lesser extent. And that makes me happy.
What impact do you think electronic, or telecommunications engineering has on the world? What does it mean to you to be an engineer?
I see the impact as very great because engineering itself is a direct part of the evolution of the human being. Telecommunications and electronics have been key in the development of the world as we know it. In addition, I believe that telecommunications engineering is one of the most complete careers and one of the most important professions in the development of society.
For me it is a motivation to know that you are going to be a part of that continuous change and evolution of the world in which we are living. The development of technological knowledge in a society is key. It is what allows us to continue improving our quality of life, and that impacts people's happiness. In addition, engineering must play an important role in making the world more sustainable. We must apply everything we know, all our knowledge, to move towards a more sustainable development of both electronic devices and the cities in which we live.
What advice would you give to young women who have to choose a profession?
I have been lucky; I consider myself lucky for the team and the work I have. That is why I would encourage all the girls who consider engineering to do so, regardless of the rest.
I would tell them that if they are worried about being able to achieve something, to pursue it, not to doubt their abilities. With effort, sooner or later, everything can be achieved.
In addition, I would recommend them to have an open mind. If you want something, go for it. That, and that it's nice to make the world a better place and contribute to society. All professions are for everyone, no one should tell you what to do. And if you make a mistake, nothing happens. Just start again.