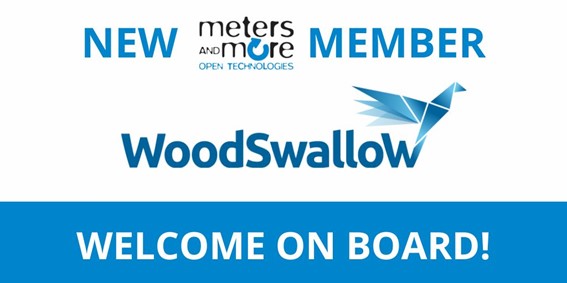 Last month WoodSwallow joined the international association Meters and More as a partner company. The main objective of this non-profit organisation is to provide the industry with a proven open protocol for smart metering. Among the partners are major companies such as Endesa, GridSpertise, ZIV or Ayesa.
The partnership was constituted by E-distribuzione SpA and Endesa Distribución SA. With it, they aimed to take a major step forward in the implementation of global smart meter solutions. Today, the Association operates and promotes the new generation communication protocol METERS AND MORE. It is also open to third parties. Since its constitution, over 45 new companies, including WoodSwallow, have already joined the Association.
The protocol enables bidirectional data transfer between smart meters and central billing systems in an advanced smart metering environment. The METERS AND MORE initiative is a concrete step in the implementation of the European Commission's mandate 441 to provide standard pan-European smart metering solutions.
The Association is committed to providing an open base and evolving the protocol specifications, certifying compliance of new equipment with such specifications and promoting the widespread dissemination of the protocol.
Manuel Álvarez, CEO of WoodSwallow, has pointed out that "joining this leading association in the field of Smart Metering makes a lot of sense for our company, as we are specialised in the design and development of smart metering devices. Therefore, it is key for us to know and be updated on the evolution of this protocol. We hope to be able to contribute from our experience in this field".
On 23 March, Manuel Álvarez travelled to Milan to attend the first annual general assembly of Meters and More associates. During the event, he was able to introduce our company and meet the rest of the associates with a view to establishing ties and exploring ways of collaboration in the future.