We interviewed our colleague Víctor Cubero on World Electronic Technician Day.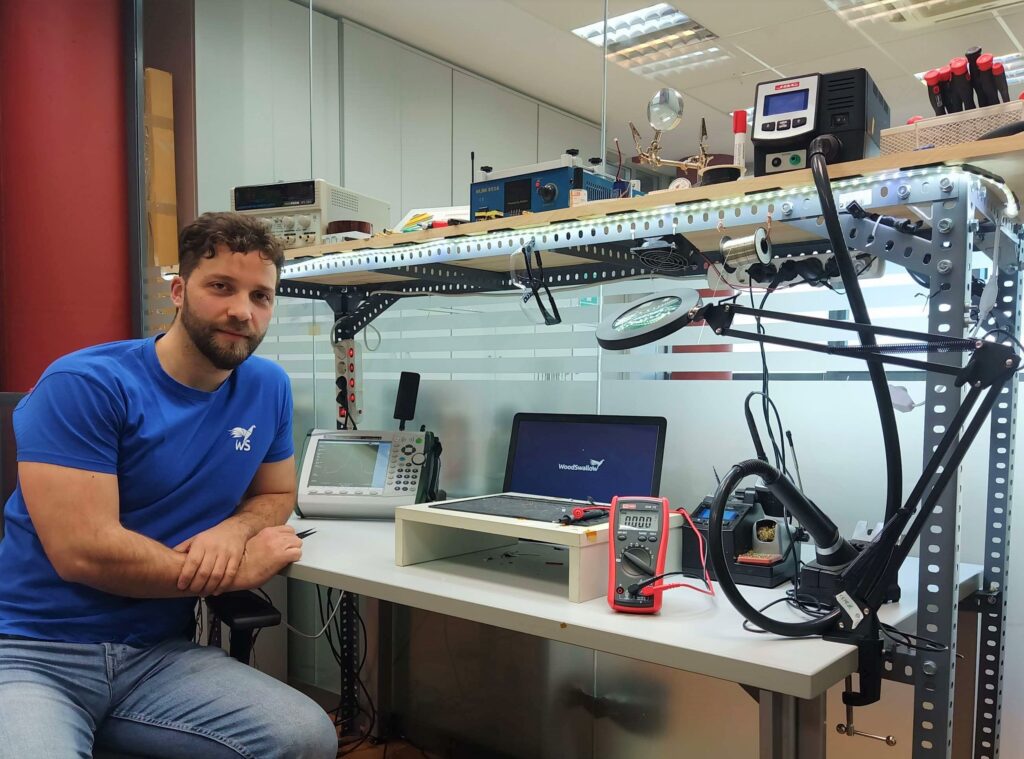 In the WoodSwallow team we have professionals with different profiles. They are involved in the different phases of design and development of IoT (Internet of Things) products and embedded systems.
One of these profiles is the electronic technician. A role that our colleague Víctor Manuel Cubero has held for more than three years. Today on the Electronic Technician Day, we have asked Víctor to tell us about his work and his day-to-day at WoodSwallow.
What tasks does an electronic technician carry out in a company dedicated to the design and development of IoT products and embedded systems such as WoodSwallow?
In the development process of an IoT product, the electronic technician intervenes in two phases or stages. The first is the design phase and, later, the product pre-certification phase.
In the design phase, the Hardware team designs the electronic circuit of the PCB (printed circuit board) of a product based on the requirements of the client. Once this first design is ready, it is sent to produce a series of sample boards.
It is on these boards that the technician works to verify that everything works correctly. Otherwise, the detected errors are transferred to the design team. This way they can re-modify the circuit incorporating the necessary improvements. Then, a new round of boards is sent to produce again.
The process continues like this until the team achieves a final, stable product that meets the customer's specifications. In this way, the electronic technician performs tasks such as assembly of components on PCBs, adjustments and modifications necessary to reach the desired final product.
The next stage in which I participate is in the pre-certification phase of the products once they are fully developed. In this case, what we do is carry out a series of tests prior to certification based on the necessary regulations. For example, we carry out emission tests (both radiated emissions and conducted emissions) under the IEC55032 standard, or electrical pulse tests such as the Surge test and the EFT (electrical fast transient) test.
In general, what technical and theoretical knowledge is required to work in this field?
An electronics technician needs knowledge of soldering, electronics and certain knowledge of telecommunications, such as radio frequency.
Likewise, you must have extensive knowledge about the different electronic components offered by the market and know the operation and characteristics of each element. This allows the technician to propose the best solutions for a product and even look for more creative alternatives in certain cases.
In general terms, an electronic technician should have the skills to develop, evaluate, test, install, and maintain electronic equipment.
How is your day to day at WoodSwallow? What do you enjoy most about your work?
One of the things I enjoy most about my job is that every day is different. I am fortunate to be able to work on a wide variety of tasks and products each day. Electricity, gas or water meters, electric vehicle chargers or wireless communications devices of all kinds. This makes each day a challenge, something that I find very stimulating and satisfying. It is impossible to be bored in this job.
As for the tasks, one day you may be making modifications to a PCB and later you must prepare samples to perform a pre-certification test or write up results of a test carried out. Every day is different.
I am lucky enough to really enjoy what I do, and that makes work not seem like 'work'.
With which equipment or tools do you usually work?
Some of the equipment that I use every day are soldering station, spectrum analyzer, electric pulse generator or signal amplifiers.
In addition, at WoodSwallow we can pre-certify products as we have access to tools such as electrostatic discharge guns or a semi-anechoic chamber (SAC). I also regularly work with different types of antennas, as well as a magnetic field generator, to name a few examples. 
What would you say to a person who is thinking of working in this area?
I encourage him without a doubt. It is a very nice job in which you contribute to the development of a product. Soldering the components on prototype PCBs, making improvements and obtaining a final product that meets the objectives. All thanks to the work of a whole team like the one we have at WoodSwallow.